Our dental team members all share a commitment to our patients and to our warm, welcoming atmosphere. We love working together to bring top quality care to you!
Our highly-trained dental team provides Rochford Family Dental's patients with excellent care, by dedicating themselves to personal excellence through ongoing training and professional practice. Get to know our friendly and knowledgeable staff!
Dr. Lynn-Marie Nantes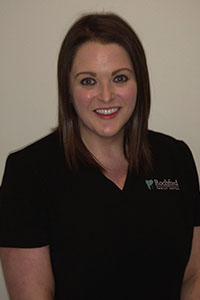 Dr. Nantes joined Rochford Family Dental in 2013 as an associate dentist and partnered with the business to start her own independent practice within Rochford Family Dental in 2015. She became the sole owner of the practice and property in 2021. Dr Nantes grew up in Kelly's Cross and currently lives on the North Shore in Stanhope with her husband and two cats, Winston and Wilbur.
From a very young age, Lynn-Marie knew that she wanted to be a dentist. Her parents found out when Lynn-Marie was very young that she was genetically missing a lot of her permanent teeth and that some of her baby teeth were abnormally placed and shaped. Lynn-Marie spent many hours in the dental chair as a child, preteen, and teen to have braces and prosthetics to have a smile that looked "normal" for her age at that time. Eventually when she was in her early 20s and able to receive dental implants, Lynn-Marie had a lengthy multi disciplinary treatment plan with numerous specialists in Charlottetown and Halifax to have another set of braces, surgery, and dental implants with crowns and bridges. Lynn-Marie always knew she wanted to be able to give to others what the amazing dental professionals gave to her when she was younger: a smile she could love and be proud of. Everything Lynn-Marie worked for academically was towards the end goal of dental school. Dr Nantes was an Englewood Bulldog and a Bluefield Bobcat. She has a Bachelor of Science with a chemistry major, biology minor, and psychology minor equivalency from UPEI. Dr. Nantes studied dentistry at Canada's top doctoral university, McGill University, in Montreal. She graduated from the Doctor of Dental Medicine program in 2013.
Dr. Nantes is dedicated to continuing education and has trained in such areas as nitrous oxide and Invisalign. She is constantly taking new courses and stays up to date on the ever changing world of dentistry so she can offer the best and trusted treatment to her patients. She is focused on providing top quality treatment for her patients and making certain they understand the importance of oral health and its connection to their overall health and well-being. Dr. Nantes is also dedicated to ensuring her patients understand their own oral conditions so they comprehend why a treatment is recommended.
Dr. Nantes strives for her patients to have an exceptional experience at her office with her team. She understands the dental chair can bring up lots of emotions for patients; she wants her patients to feel confident, comfortable and have the most pleasant experience possible. Dr Nantes loves to travel, swim, read and learn. She enjoys summer the most where she can enjoy the beautiful PEI beaches during the day and the talented local theatre in the summer evenings. She enjoys music, art, and also enjoys discussing current new topics and business. She loves spending time with her family, friends, animals, and enjoying everything local on the gorgeous Island we all call home! Dr Nantes is a member of the charitable community group "100 women who care" and also sits on the Holland College's Dental Assistant Advisory Board.
Lana MacDonald - Receptionist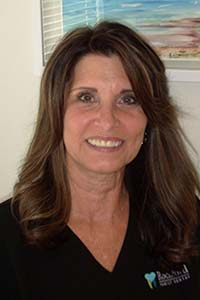 Lana was born in Cape Breton and currently resides in New Dominion with her fiancé and their two cats! She attended St Peter's District High School and completed a Stenographer's Certificate and business courses. She has been working in the dental administrative field for over 30 years. She joined the Rochford Family Dental team in December 2016 and works as our front desk administration. She is often the first voice you will hear on the phone, the one writing back to your emails, and also the first face you'll see when you come in our office!
Lana's favorite part about working at Rochford Family Dental is to aide in ensuring patients feel comfortable with their visits and for upcoming treatment. She notes that "we try to accommodate ALL of our patients and their individual needs, especially if they have a fear of the dentist!". Lana is often the calming voice discussing treatments with patients and she notes she "enjoys watching the transformation of patients who come into the office terrified and after being here a few visits, they are feeling much more comfortable because of the way they are treated here in our office". Lana is instrumental in creating that comfortable, calm, and inviting atmosphere.
Lana enjoys crafting, gardening, reading, knitting and crocheting. She also enjoys getting outdoors for activities and camping. She often travels back to Cape Breton to see her family, friends , and of course, her two granddaughters!
Jessica Smith - Dental Hygienist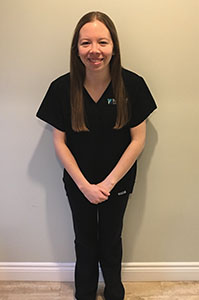 Jessica was born in Summerside, PEI, grew up in O'Leary PEI and attended Westile Composite High school. She currently lives in Stratford with her cat, Peaches! She received her Bachelor of Science in Chemistry at PEI and then attended Oulton College in Moncton where she graduated as a registered dental hygienist with honors. Upon her graduation, Jessica received the "Hu Friedy Golden Scaler Clinic Excellence Award". This award is in recognition for providing individualized centered care and achieving excellences and professionalism in the Dental Hygiene program! Jessica has continued her standards of excellent individualized care in her professional career at Rochford Family Dental as one of our dental hygienists.
Jessica started with Rochford Family Dental in September 2016 Jessica notes that her favorite part about being on the Rochford family Dental team is the team itself, the friendly and helpful environment, and the patients we work with. Jessica enjoys seeing the "patient's transformation through their dental journey and how it can improve their confidence and makes them happy". Jessica finds that being able to provide a medical service that helps a patient improve their oral health and overall health is very rewarding. Jessica does this every day during hygiene appointments with her patients. Jessica's often noted "gentle touch" is complimented regularly by our patients!
Jessica enjoys everything outdoors: camping, beach walks, snowboarding. She also is very talented in different aspects of crafting and DIY projects! She enjoys watching sports, puzzles, and exploring the beautiful maritimes! She is often found spending time with her family on the weekend and likes taking time to learn new skills.
Chantel Haslem - Dental Hygienist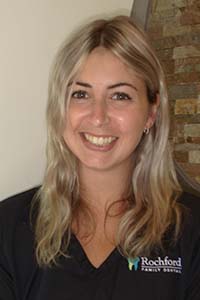 Chantel was born in Summerside PEI and attended Kensington Intermediate Senior High. She currently lives in Kensington with her parents and brother. They have two german shepherd puppies and two cats! She went to the University of Prince Edward Island for her Bachelor of Science degree. Chantel graduated with a diploma in Dental Hygiene from Dalhousie University in Halifax, NS. When she graduated, she received two awards. She received the "Hu Friedy Golden Scaler Award" and the "Halifax County Dental Society Award". These two prestigious awards are both recognizing her great proficiency in clinical dental hygiene. Chantel continues to be proficient, professional, and excellent as a dental hygienist on the Rochford Family Dental Team!
Chantel notes her favourite part of working at Rochford Family Dental are her coworkers, that are so helpful to one another, and the dedication she sees to all of our patients. She feels it is the "best dental office to come to because the team makes sure the best care and that the patients are comfortable and at ease". She enjoys that with her profession as a dental hygienist that she is able to help our patients have the best oral health possible through regular cleanings, education, and proper care.
Chantel enjoys golf, hockey, going to the gym and travelling. In the summer she likes to boat with friends, paddleboard and go to the beach! She enjoys spending time with her family, friends, and fiancée.
Korianna Wigmore - Dental Assistant, Level II
Korianna was born in Summerside PEI but spent most of her childhood in Nova Scotia. She moved back to PEI as a young adult. Korianna currently lives in West Royalty with her husband, her son and their cat!Korianna attended Holland College for Dental Assisting and was working for a dental assistant already for 5 years when she brought her experience to the Rochford Family Dental Team in 2017.She has tutored dental assisting students through Holland College and also sits on the Holland College Dental Advisory Committee. Korianna notes that her favorite part of working at Rochford family dental is our team and our patients. She appreciates and understands that we take our time with each patient and we truly care about each individual patient and their experience at our office.
She likes being able to help others in her position as a dental assistant whether that means comforting a nervous patient or educating them to help them with their oral health journey. Korianna has a kind and comforting manner with her patients to help them understand what is going on and to ensure they are comfortable during their dental experience. Korianna is often the comforting hand on your shoulder and the one sitting explaining the process of a procedure. She always takes her time to ensure our patients are comfortable, informed, and supported. Korianna can often be the caring and friendly voice you'll hear on the phone as she assists in many aspects of our daily coordination for our patients.
Korianna likes to spend time with her friends and family – in the summer that means camping and spending lots of time outdoors! She also enjoys crafting and painting.
Kate Ford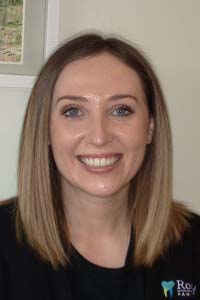 Kate was born in Kitchener Waterloo, Ontario and moved to PEI in 2022 to purchase her first home! Kate attended Waterloo Oxford High School. She was exposed to the dental office atmosphere at a young age as her mother worked in a dental office! Kate soon realized she would like a hands-on career in dentistry. Kate studied Dental Assisting at Westervelt College where she graduated on the Honours List. She worked at a dental office for years in Ontario before making the big move to PEI! She currently lives in Charlottetown and she is loving exploring and enjoying seeing all that PEI has to offer!
Kate notes that she enjoys the positive and fun work environment that we have at Rochford Family Dental! She finds our team is family oriented and she is excited to be a part of the friendly staff that ensures patients have a great experience. She likes getting to meet new people every day and help with them through their dental experiences. Kate has a quiet, calm, and gentle approach to dental assisting and it is evident and much appreciated in all her patient interactions.
She loves to take in the new PEI scenery while she roller blades, bikes, hikes and goes to the beach! Kate also enjoys photography, editing, and travelling! She is enjoying seeing and experiencing all the different festivals on PEI and likes spending her time outdoors and hanging out with friends at social events!