Our dental team members all share a commitment to our patients and to our warm, welcoming atmosphere. We love working together to bring top quality care to you!
Our highly-trained dental team provides Rochford Family Dental's patients with excellent care, by dedicating themselves to personal excellence through ongoing training and professional practice. Get to know our friendly and knowledgeable staff!
Dr. Lynn Marie Nantes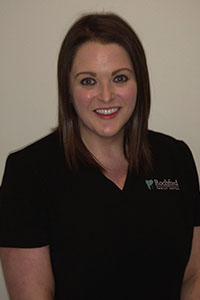 Dr. Nantes joined Rochford Family Dental in 2013, became a partner in 2013, and became the sole owner of the practice and property in 2021. A native of Kelly's Cross, Dr. Nantes currently lives on the North Shore in Stanhope with her husband.
She has a Bachelor of Science with a chemistry major, biology minor, and psychology minor equivalency. Dr. Nantes studied dentistry at Canada's top doctoral university, McGill University in Montreal. She graduated from the Doctor of Dental Medicine program in 2013.
Dr. Nantes is dedicated to continuing education and has trained in such areas as nitrous oxide/oral sedation, sleep dentistry, and Invisalign. She is focused on providing top quality treatment for her patients and making certain they understand the importance of oral health and its connection to their overall health and well-being. Dr. Nantes is also dedicated to ensuring her patients understand their own oral conditions so they comprehend why a treatment is recommended.
Dr. Nantes strives for her patients to have an exceptional experience at her office with her team. She understands the dental chair can bring up lots of emotions for patients; she wants her patients to feel confident, comfortable and have the most pleasant experience possible.
Lana MacDonald - Receptionist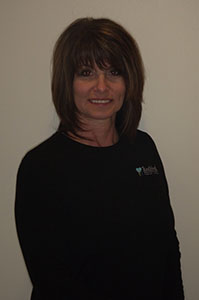 Lana has been a member of the Rochford Family Dental team since 2017. A graduate of St. Peter's District High School, Lana also holds a stenographer's certificate. Lana grew up in Cape Breton and has two sons and two granddaughters still living there. Lana enjoys the company of her significant other and two cats. In her spare time, she enjoys camping, walking, snowshoeing, knitting, crocheting, and going to the gym.
Jessica Smith - Dental Hygienist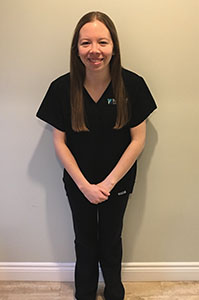 Jessica has been intrigued by every aspect of the dental profession since wiggling out her first baby tooth many years ago! She began her career training at UPEI where she completed her Bachelor of Science with a major in Chemistry and a minor in Biology, in 2014. She then attended Oulton College in Moncton, earning a Dental Hygiene Diploma in 2016, and completing additional training in Local Anesthetic and Self-Initiation for Dental Hygienists. She was awarded the Hu-Friedy Clinical Excellence Award at Oulton College.
Jessica is dedicated to providing a comfortable and enjoyable experience for each patient. She believes that a person's smile and oral health play a significant role in their overall health and self-confidence, and is proud to play a part in helping people achieve these outcomes.
Jessica grew up in rural Glenwood, in Western PEI and recently moved to Stratford. She enjoys beach walks, kayaking, snowboarding, and spending time with her family and friends.
Korianna Wigmore - Dental Assistant, Level II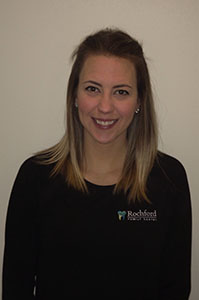 Korianna Wigmore graduated from Holland College in 2013 with her diploma in Dental Assisting and joined Rochford Family Dental in December 2017. Korianna loves taking care of her patients, helping them feel at ease and confident in the care they're receiving. Born in Summerside, Korianna spent her early years in Charlottetown before moving to Nova Scotia at age 6. She moved back home at age 18 to pursue her dream of living and working on the Gentle Island, and raising a family here. Korianna is now living that dream, happily married with a one year old son and a cat. She enjoys traveling, painting, spending time with family, being outdoors, and being a Mom.